Prismagum-F Range: Colour Masterbatch for FKM Applications
FKM, Fluoroelastomer, FPM, and Viton® are all common names for synthetic fluoropolymer rubber materials used in high-performance industries.

Originally developed for the aerospace industry, they were quickly adapted into industries such as defence, automotive and others where exceptional resistance to heat ageing and a wide range of fuels, solvents and chemicals is required.
Prisma Colour are a premier supplier of FKM colour masterbatches to gasket, O-ring and seal manufacturers worldwide. These products are developed utilising the exact FKM used in the customers final compound as the pigment carrier system to ensure maximum product compatibility.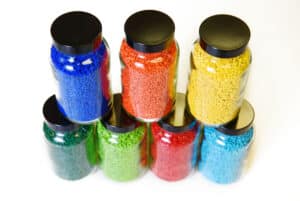 Prisma Colour offer an FKM colouring matching service designed to meet specific end product requirements such as heat resistance, light and weather fastness by using high-performance pigments. We can also formulate masterbatches for use in food applications and are compliant with specific regulations such as FDA and BfR.
Standard rubber colourants tend to be based on wax, EVA or synthetic rubber carriers other than FKM and can lead to compatibility issues and delamination. Prismagum-F masterbatches not only eliminate foreign polymers in the FKM compound, but also reduce mixing times and result in a much cleaner process by removing the dust produced by raw powder pigments.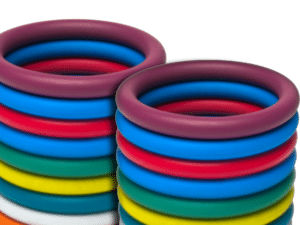 'O-rings – Primsagum-F application'
FKM's outstanding properties are due to fluorine atoms shielding the polymer backbone resulting in a much broader solvent resistance and greater thermal stability than other elastomers. These polymers enhance sealing reliability, safety and prevent material leakages in a a range of high-performance applications such as gaskets, hoses, O-rings and seals. They also provide exceptional durability against wear and discolouration even during prolonged lifetimes in contact with skin oils and frequent exposure to light, while guaranteeing high comfort and stain resistance.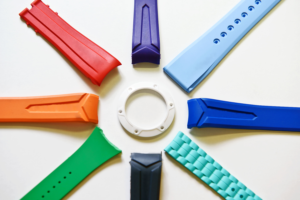 In addition to our colour masterbatches we also supply processing aids and crosslinking additives suitable for FKM compounding available through Prisma Rubber Additives.
Triallyl Isocyanurate (TAIC) is offered as both a 50% or 70% dry liquid and is now also available as a 50% masterbatch called Adsperse TAIC 50.
For samples, data sheets or pricing, please contact Prisma Rubber Additives sales manager Will Adam at [email protected].